About Us
Cherry L. Emerson | Alumni of the Center | Hardware Facilities | Software Collection Details | Lectureship Award | Visiting Fellowship Award | Picture Gallery | Contacts
---
The Cherry L. Emerson Center for Scientific Computation was established in 1991 as a result of a generous donation from Dr. Cherry L. Emerson and a matching contribution by Emory University. A new Emerson Hall was introduced in 2001 where the Center's staff and computer servers are currently located.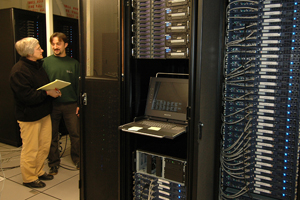 The objective of the Center is manifold, including:
To provide high-end computational facilities and expertise to the computationally oriented scientific research at Emory, and to propel Emory into the forefront of research in computational sciences;


To help provide state-of-the-art education on computational sciences at Emory, and to help bring computational education in Emory to the highest possible national and international levels;


To encourage collaborations in computational sciences with other national and international institutions, as well as on Emory campus.
Governance
The Cherry L. Emerson Center for Scientific Computation was established in 1991. Prof. Joel Bowman served as Acting Director and was succeeded by Keiji Morokuma as Director in 1993. Dr. Jamal Musaev was appointed as Manager of the Center in 2000. During this period, the EC has grown and contributed greatly to computationally oriented science at Emory. In 2006, after Keiji's retirement, Dr. Jamal Musaev was appointed Center's Director. Dr. Alex Kaledin is a System Administrator of the Center.
The Emerson Center Leadership Committee
The Emerson Center Leadership Committee (ECLC) was appointed by the Dean of Emory College to guide the operation of the Emerson Center. It comprises one faculty representative each from Biology, Chemistry, Math & CS, and Physics, among whom chairmanship will rotate every 3 years. Dr. Jamal Musaev serves as ex officio on the ECLC.

Professors James Taylor (Biology), James Kindt (Chemistry), Vaidy Sunderam (Math & CS), Kurt Warncke (Physics) and Jamal Musaev (ex-officio) are the 2009-2012 ECLC members, with James Kindt serving as Chair.
The Center currently has over one hundred seventy five active users including faculty and students from Biology, Chemistry, Physics, and Math and Computer Science departments. The Center's "Subscribers" have access to its state-of-the-art computational facilities, world-class experts, and Visiting Fellows Program which brings to campus experts in various fields of computational sciences that are of interest to our faculty and students.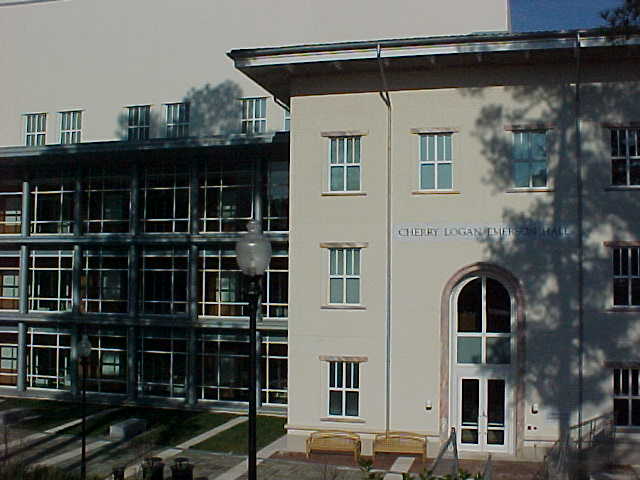 The Center is housed on the fifth floor of the Cherry Logan Emerson Hall. Currently, it owns, maintains and operates:
Microway AMD Linux cluster with 35 24-core 2.3GHz 80GB RAM nodes
Microway AMD Linux cluster with 7 24-core 2.2GHz 80GB RAM, 24 16-core 2.3GHz 32GB RAM and 5 16-core 2.3GHz 16GB nodes
TeamHPC AMD Linux cluster with 32 "quad" core nodes, 3.0GHz, 8GB RAM, 128GB disk
SUN Fire v20z Linux cluster with 26 dual 2.2GHz nodes: 2GB RAM, 73GB disk
Two IBM SP supercomputers including (a) 15 SMP type of nodes with 58 CPU's, 3.2GB RAM and 540 GB hard-disks, and (b) 14 thin nodes with 14 CPU's, 4.0GB RAM and 100 GB hard-disks;
5 IBM RS/6000 server workstations; and
Origin-3200, and three Octane_2 with two processors and V10-graphic cards each.
The above equipment are all connected by fast ethernet. In addition, the Center maintains and provides service to more than 30 state-of-the-art application programs, including:
Electronic structure codes such as Gaussian, Molpro, Aces_II, Gamess-US, Dalton, TURBOMOLE, VASP and many others;
Biomolecular modeling and visualization codes such as Amber, Sybyl, MacroModel, Molden, Mathematica, Matlab, etc.;
Popular databases such as QCLDB, MDL and Cambridge Crystallographic Database.
In addition, the latest versions of all system software, compiles (Fortran, C, C++, Java etc.) and libraries (ESSL, PSSP etc.) are available to our users.